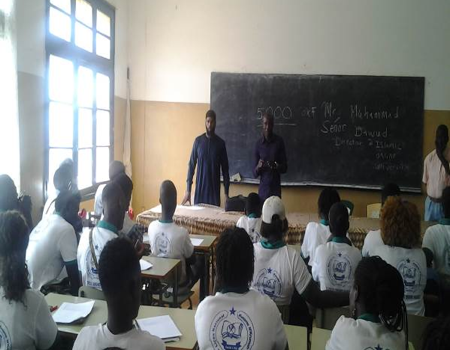 Our strategic vision in Bissau will continue to develop as goals are met and needs arise. The following represents a number of core ideas that provide the necessary elements for our vision in Bissau.
IOU of Bissau will continue:
To provide university and professional development courses for the members of Bissau's society
To assist with providing access to highly trained staff members to contribute to the process and development of Bissau's educational system and the future development of IOU's presence in Bissau
To provide relevant and culturally specific programs that will remain viable and sustainable into the future for the benefit of all segments of Bissau's society and their subsequent contribution to national development
To continue to engage in beneficial partnerships with local and international groups and organizations in order to sustain the presence of IOU into the future
Mission Statement
The mission of IOU in Bissau is similar to our sister organizations globally, which is to provide global access to quality undergraduate, graduate and postgraduate level educational programs. However, in Bissau this idea takes on a very significant meaning due in part to the countries long history of instability and political turmoil. In Bissau the motto "changing the nation though education" has far reaching implications as many of the opportunities afforded other African nations, were virtually non-exist, particularly in the educational and professional development sectors. This includes university education and access to the most significant medium of global communications namely the English language medium. Many teachers at the highest levels lack the much needed university training that would facilitate the best possible experiences for both student and instructor. It is our hope that  many of our courses can provide this much needed resource and training   As a viable working partner  and stakeholder with the leadership of Bissau we hope to continue  to operate as a center of educational excellence by providing an affordable and  accessible quality education to all members of their society .We are committed to remaining a dynamic force in Bissau by assisting its leadership  in responding to the ever-changing needs and realities associated with national development. This work implies continuing to expand our programs to assist prospective students irrespective of their religious or ethnic backgrounds. In our efforts to achieve this goal we will take the initiative to help all potential students and adult learners become academically sound and workforce ready with the intent of giving them the requisite tools to compete globally.